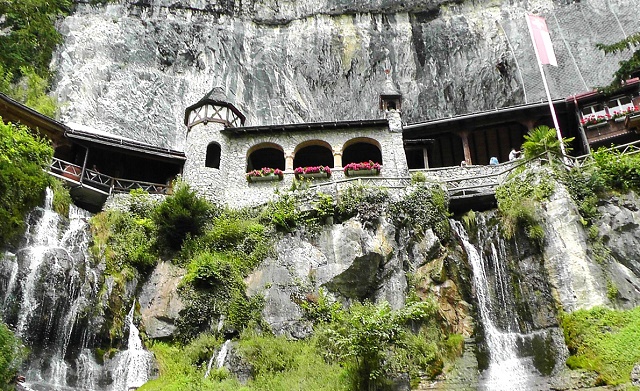 The most important tourist places in Interlaken Switzerland
The most important tourist places in Interlaken Switzerland
Interlaken has a variety of great attractions. Here we will mention 10 of the most important ones:
Ballenberg Swiss Open Air Museum
The Swiss Open Air Museum Ballenberg is one of the most famous tourist attractions in Interlaken Switzerland. It is one of the finest living history museums in Europe. It consists of a collection of villages, farms, historic houses, barns, shops, and various Swiss buildings. In addition to her traditional ways of life.
You can enjoy spending a whole day wandering around and seeing the humble homes, all the way to the luxurious homes of the rich. And learn about many indigenous traditional crafts such as wood carving, cheese making, lace and participating in farm work.
Lake Thun and Brienz
Lake Thun and Brienz in Switzerland
Lake Thun is a long and narrow lake surrounded by mountains on the western side of the region. And Lake Brienz is a narrow body of water, which is already an expansion of the valley of the Aare River. They are two of the most famous places to visit in Interlaken.
The Lake District offers tourists many wonderful opportunities, to experience a range of the most enjoyable leisure activities such as boarding one of the cruise boats, which operates from Interlaken all year round, or in the summer on board a restored historic steamer. You can also kayak, ski, and swim at the forested beach. And see many wonderful historical monuments such as the castle and the magnificent Roman archaeological buildings.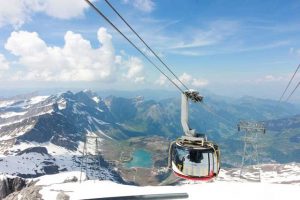 Giessbach Falls
Gessbach waterfalls
Gessbach Falls is one of the best tourist attractions in Interlaken, Switzerland, which gives you the most beautiful time in nature. To reach the falls you can rent a Lake Brienz boat, then ride the oldest funicular in Europe, or do a twenty-minute climb on an exciting adventure.
The Gessbach Falls allow its visitors to have enjoyable experiences, as they witness stunning landscapes at an altitude of 500 meters above sea level. In addition to hiking the footpaths that connect both banks to the top of the three bridges. As well as taking great photographs.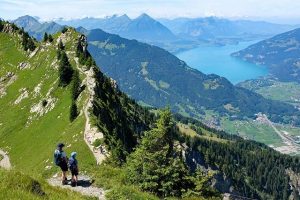 Harder Kulm
Hard Kulm, Switzerland
The summit of Mount Harder Kulm is a popular tourist attraction in the city. Part of the Swiss Alps mountain range, it offers the most beautiful panoramic views of Lake Thun and Bernese and the surrounding mountains. And that's through the panoramic restaurant, decorated in Art Nouveau style at the top.
You can do many great things on Mount Harder Kulm, including ride the exciting funicular to the summit, visit the Harder Alpine Wildlife Park, see badgers and caribou that have become extinct and were able to reintroduce them to wildlife again, snowboarding in winter, and also park On the glass floored viewing platform above the slope.