Tourism in Antalya: Learn about 3 of the best waterfalls


Antalya Waterfalls The most beautiful 3 Antalya waterfalls in Turkey
Learn about 3 of the best waterfalls in Antalya, Turkey
Antalya is one of the most attractive Turkish cities for travelers, due to its privileged geographical location on the Mediterranean coast in southwestern Anatolia.
It also contains wonderful natural and tourist attractions, not to mention the high-end Antalya hotels, most of which come in the form of all-inclusive resorts to relax under the sun by the sea.
One of the most important reasons for tourism in Antalya is its beautiful waterfalls. Dudan Waterfall is in my opinion the most beautiful, and do not underestimate the beauty of Kursunlu Waterfall or Manavgat Waterfalls. The waterfalls are all serviced by restaurants, cafes and activities and are among the most beautiful tourist places in Antalya, Turkey.
In this report, we review the best Antalya waterfalls that tourists visit annually to enjoy its beauty and relax in the lap of nature.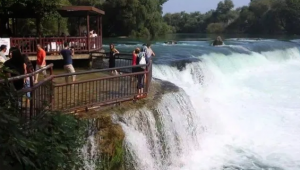 Duden Waterfalls in Antalya
Duden Waterfalls Antalya – The most beautiful waterfalls of Antalya
Duden Falls
Duden Falls, the most beautiful among the Antalya waterfalls, consists of two areas, the first near the city of Antalya, with a height of more than 22 meters, and the second where the waterfall pours into the Mediterranean Sea from a height of 40 meters.
The name Duden Waterfalls in Antalya is due to the Duden River that feeds it and its length is no more than 15 kilometers, although the source of the water is about 40 kilometers from the point of appearance of the waterfall through which the water flows underground. This distance, which is one of the most beautiful waterfalls of Antalya at all.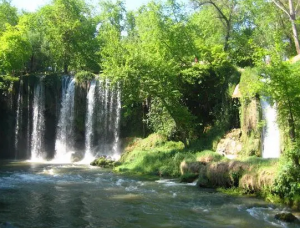 Manavgat Waterfalls, Antalya
Antalya Manavgat Waterfalls – Waterfalls in Antalya
Manavgat Waterfalls
The magic of the waters and the splendor of the scenic landscapes are found in Manavgat Waterfalls, one of the best waterfalls in Antalya, as it forms part of the mighty Manavgat River, located 3 kilometers from the village of Manavgat and about 78 kilometers east of the charming city of Antalya.
Manavgat Waterfall appeared on the 3 Turkish Lira banknote between 1968-1983 AD, which indicates that it is one of the best tourist places in Antalya.
Kursunlu Waterfalls, Antalya
Kursunlu Antalya Waterfalls – Antalya Waterfalls
Kursunlu Falls
In the arms of the enchanting nature and picturesque scenery, and among the majestic trees whose branches reach the sky, hugging the wind, the Kursunlu Falls from overseas descend on the shoulders of the mountains, and its waters rush down powerfully, hugging the mountains. The land to be one of the most beautiful waterfalls of Antalya in Turkey.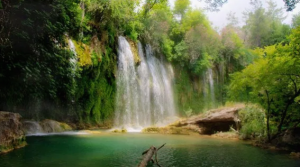 Kursunlu Waterfalls are located in the middle of a scenic pine forest, 20 km northeast of Antalya, a tributary of the Oksu River.
This area was converted into a park for visitors in 1986. The waterfalls and picnic area cover an area of ​​about 33 hectares.