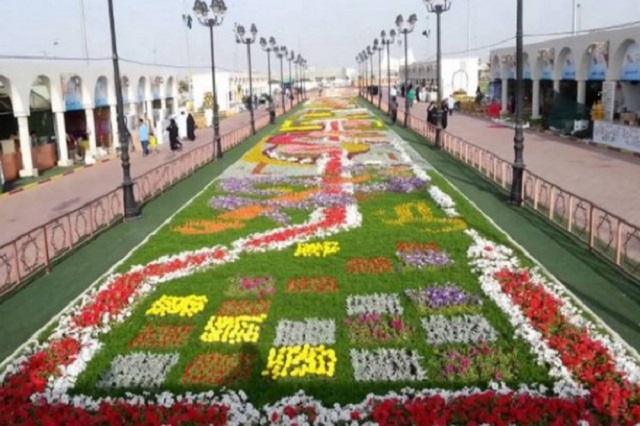 Al-Madinah Al-Munawwarah parks are among the most important tourist and recreational attractions in the city.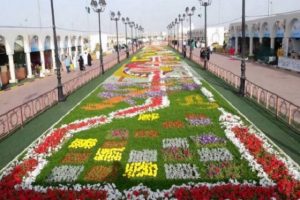 And one of the ingredients that made Medina one of the most important tourism cities in Saudi Arabia. Madinah enjoys beautiful gardens and parks, in addition to shopping malls, high-end restaurants, and many other distinctive tourist attractions.
In order to have an ideal recreational holiday in Medina, it is necessary to visit its various parks, and enjoy various outdoor recreational activities, in the midst of a calm natural atmosphere and wide green spaces. Especially if you are bringing your family and children with you. If you have already made your decision to travel and tourism in Medina soon.
The best parks in Medina
Here are 8 of the most important Al Madinah Al Munawwarah recreational parks for families that we advise you to visit during your vacation…
Al-Jabal Al-Akhdar Park in Madinah is one of the most important and beautiful Al-Madinah Al-Munawwarah theme parks, ideal for families. This is where it is very popular with the city's residents as well as tourists. It features fantastical views of large artificial lakes, delightful dancing water fountains, expansive green spaces, numerous waterfalls and much more.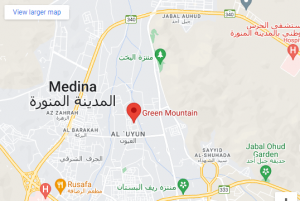 You can take a fun tour of the Green Mountain Park, to learn about its different activities. And enjoy the experience of the famous park game "Toboggan", which extends up to 1500 meters, and ride the Ferris wheel and others. You can also enter to watch films using the techniques of ships, attend performances on the Egyptian theater and enjoy magic games and animal shows. You can also rent a boat on the lake, and don't forget to buy handmade gifts. And eat delicious food in the many restaurants.
Al Jabal Al Akhdar Park is open daily to visitors from 2 pm to 4 am. Entry is free for all. The prices of the amusement park games with charged cards start from 70 Saudi riyals, and the prices of the games range between (6 – 11 – 32) Saudi riyals.
King Fahd Central Park
King Fahd Central Park is one of the most beautiful and largest parks in Medina, characterized by its proximity to the Prophet's Mosque, and it is located on a very large area of ​​4.5 square kilometers. The park is characterized by green areas, and tall dense trees that provide shade for hikers. As well as there are many playgrounds, and an artificial lake. The park provides a range of the most wonderful recreational activities that are suitable for all ages, for adults and children.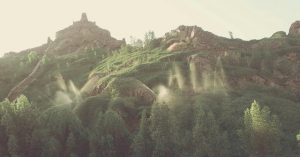 You can try a lot of fun activities such as sitting on the green areas under the shade of trees, and doing barbecues. And experience many sports in the park's many playgrounds, such as football, basketball, tennis and others. There is also a children's play area, full of safe toys. In addition to the possibility of attending many events, parties, various cultural and social activities, and strolling on the lake.
The park's working hours are daily from Sunday to Wednesday from 4 pm to 12 midnight. And on Thursdays and Fridays from 1 pm to 2 am. And on Saturdays from 8 am to 12 midnight. Ticket fees for children are 10 riyals and for adults 25 riyals.
Medina flower garden
This park is one of the most beautiful parks in Medina, which we advise you to put on the list of places to visit in your tour program. Especially in the spring, when the wonderful flowers with bright colors and fragrant scents, which allow you to take a walk and take the best souvenir photos amid beautiful roses.
Relax in the greenery of the flower garden with its many seating areas, and eat delicious food and delicious drinks from the restaurants spread throughout the garden. There are also children's play areas for fun. You can also wander in the garden to explore its beautiful features, and attend the wonderful spring concerts. The park is open to everyone daily from six in the morning until six in the evening, and admission is free.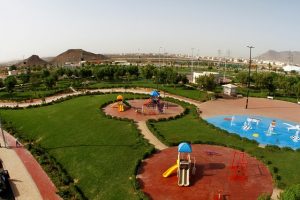 its location
Prince Mohammed bin Abdulaziz Garden
This park is considered one of the most beautiful amusement parks in Madinah, as it is distinguished by its height because it is located in Uhud Mountain. This provides panoramic views from the top of the entire city. As well as the wide green areas ideal for picnics.
Prince Mohammed bin Abdulaziz Park is famous for its mild weather, despite it being a mountainous area. However, it has a wonderful climatic atmosphere that attracts visitors to it. It also spreads out seating areas among the tall trees and in the middle of the green spaces for relaxation. The park operates 24 hours a day throughout the week.