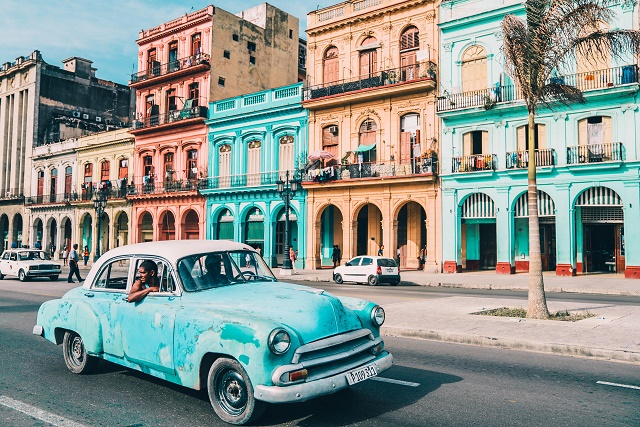 Transportation and transportation in Cuba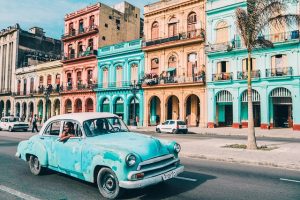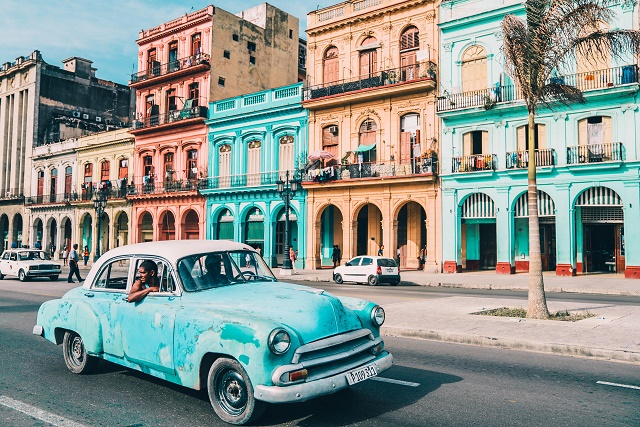 Transportation in Cuba
There are many means of transportation in Cuba, which you can take within the country to explore and learn about its landmarks, and among the most important means of transportation in Cuba are:
Air transport :
Flying is one of the fast and convenient means of transportation within Cuba, but its prices are high.
car rental:
Self-driving in Cuba is one of the most enjoyable ways to explore the country in absolute freedom without restrictions, and reach the destination you want whenever you want. It is a very expensive method of about $80 per day.
Motorcycle rental:
One of the cheapest and most exciting ways to get around Cuba is by motorbike, as the daily rental of a motorbike is $25.
Tourist buses:
It is one of the most widespread means of transportation in Cuba, and it is characterized by cleanliness, comfort, speed and punctuality. When traveling in Cuba, you can buy your edge tickets at the bus station, and bus tickets sell out quickly during high season, so book online before arriving in Cuba to be sure of a place on the bus.
local buses:
It is a very cheap form of transportation in Cuba, and it is usually full, and you should know that some locals do not want travelers to board their local bus services.
Coco Taxi:
It's a tricycle, and it's a great way to get around in Cuba due to its exoticism, but beware of its high prices, as many Coco Taxi drivers try to charge travelers big fees for a short trip.
classic cars:
It is one of the most popular means of transportation for getting around in Cuba, and the tours take about an hour and cost about $15 USD.
trains:
Trains are among the worst modes of transportation within Cuba, the trains are still often unreliable and not the most comfortable.
Hiking in Cuba:
Hiking is a form of public transportation in Cuba, it's legal, free, safe, and fun.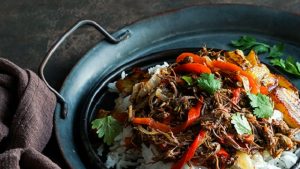 Food and drinks in Cuba
Cuban cuisine is characterized by the most delicious dishes rich in distinctive flavors. It is a special cooking style that resulted from the colonial era. The dishes in Cuban cuisine are a mixture of European and African cultures. Here are some of the best popular Cuban foods that we advise you to try while traveling in Cuba:
Creole food "Comida criolla":
A very popular local delicacy, it consists of grilled or fried chicken and meat with rice and an array of tasty root vegetables.
Ropa vieja:
It is the national dish of Cuba, a dish made of shredded beef or lamb, and is one of the most famous local soups in Cuba. It is prepared on low heat with a mixture of green peppers, tomatoes, onions and garlic.
Ajiaco:
It is a rich stew filled with different ingredients depending on the region, but always at least one type of meat, corn and some fresh green vegetables.
Tasajo:
It is a dish of fried dried beef, one of the most famous Cuban dishes.
Frituras de Malanga:
A quintessential Cuban snack, a root vegetable resembling taro, the malangas are peeled and skinned and put into a paste and added to a mixture of eggs, garlic and spices, then served as an appetizer or side dish, and served with honey.
Lobster enchilado:
It is a slightly spicy dish with a tomato-garlic sauce, and lobsters are often served with their shells or pieces served with a rice dish.
There is a variety of delicious Cuban drinks. The most important of which is coffee, which is often grown in the eastern mountainous regions of the country, in addition to fresh fruit drinks scattered throughout the country.
The official currency of Cuba
The official currency of Cuba
The Cuban peso is the official currency used and circulated in Cuba.
Communications and the Internet in Cuba
Although there is internet in Cuba at much lower costs, internet access in Cuba is not available everywhere. And that is where it is found in the tourist cities that are frequented by tourists and most of the hotels, squares and public areas.
You can buy a Wi-Fi card that gives you access to the Internet for only one hour. We recommend that you buy a number of these cards in order to be able to connect to the Internet within the Wi-Fi range in all parts of Cuba.
International telephone connections are available in Cuba but they are expensive, and if you are using your mobile device, it must operate on the 900MHz frequency band in order to work in Cuba.
The postal system in Cuba is also reasonably reliable, you can also buy prepaid postcards in Cuba from shops, and it costs about 25 kopecks to send a postcard internationally.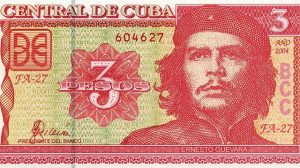 Distance between the most popular cities in Cuba
Here are the distances between the most famous tourist cities in Cuba:
Havana to Santiago de Cuba 759.41 km.
Pinar del Rio to Cienfuegos 337.02.0000 km.
Camague to Holguin 180.09.2019 km.
Baracoa to Jovelanos 744.47 km.
Caibarien to Camaguey 86.15 km.
Havana to Santa Clara 261 km 162 miles.
From Havana to Cienfuegos 227 km 141 miles.
Havana to Guantanamo 813 km 505 miles.
Car rental in Cuba
If you want to explore Cuba and see the most beautiful roadside landscapes on your own while driving. You can rent a car. Here are the most important instructions that you must follow and adhere to in order to rent a car in Cuba:
It is mandatory to have a valid and valid International Driving Permit.
National driving license
Valid, valid, in good standing and translated into English.
Most of the vehicles that are rented in Cuba are classic cars, as the country is a living classic car museum.
You must be at least 21 years old.
Pay rental insurance for the vehicle you intend to rent.
The blood alcohol level must be 0.0% while driving in Cuba.
Do not use headlights in daylight while driving in Cuba because it is illegal.
The car must be parked in the designated car parks, most of which are free of charge, as it is not allowed to park in places other than that.
Avoid excessive speed while driving in Cuba, and always follow the Cuban speed limits.
It is mandatory to wear a seat belt for all passengers while driving in Cuba.
Driving on the right side of the road.
Internal Server Error
The server encountered an internal error or misconfiguration and was unable to complete your request.
Please contact the server administrator at root@localhost to inform them of the time this error occurred, and the actions you performed just before this error.
More information about this error may be available in the server error log.