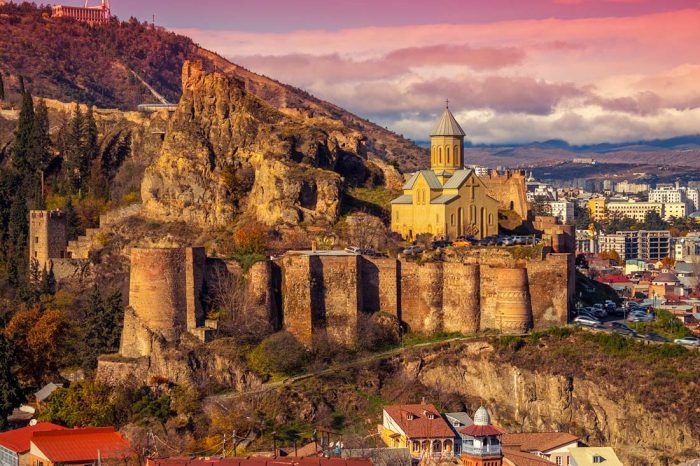 Narikala Castle ,Peace Bridge
Narikala Castle
The sacred mountain (Mtatsminda) hosts the fragments of the ancient Narikala fortress. It is an ancient fortress overlooking Tbilisi, the capital of Georgia, and the Kura River. The fortress consists of two sections on a steep hill between the sulfur baths and the botanical gardens. It was first known as (Shoris Tseh), which means the brutal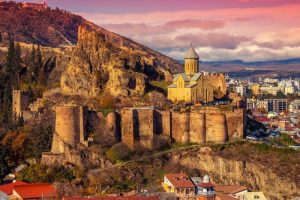 fortress, or as it is said the enviable fortress. The cable car ride is also part of the attraction of the place as it reveals wonderful views of the city. You can enjoy the charming panoramic views of Tbilisi on the way … Inside the castle you will find St. Nicholas Church which is worth a visit, the townspeople call it "the heart and soul of the city", the history of the construction of the castle It is the fourth century AD, meaning that it was there from the beginning of the city, later the castle was extended and expanded several times, starting from the seventh and eighth centuries by the Umayyad Arabs, so the castle in its modern state is a vivid example of Arab fortification. Then it was expanded again by King David Albani.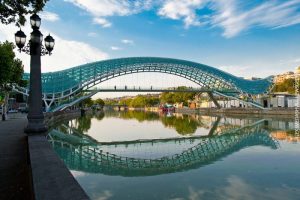 Peace Bridge
The Peace Bridge in Tbilisi is one of the symbols of identity for the capital of Georgia, which is also one of the most important and most beautiful tourist attractions in Tbilisi, and hundreds of tourists, visitors and locals pass through it daily. On the national and international peace that the Georgian government and its people have sung over the years since the dissolution of the Soviet Union., Tbilisi Peace Bridge is also known as the Glass Bridge, because it is made of glass and stainless steel, which makes it look fragile, but it is strong and durable, and in addition to these elements, it is a severe architectural masterpiece The beauty is unparalleled, the shape of the Tbilisi Peace Bridge is represented in a glass network bordering it from the top, while the glass walkway is located under it, so crossing it during the day is a unique pleasure, but visiting it in the evening is an incomparable experience, with the lights on it, it appears as twinkling stars reflected in the Kura River along 150 km. meter.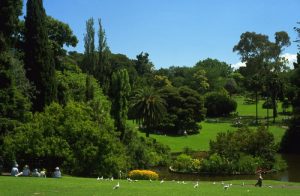 National Botanical Garden
The National Botanical Garden of Georgia is one of the oldest and largest botanical gardens in Georgia and the Caucasus, which is visited by thousands of tourists fleeing the hustle and bustle of the city in search of nature and relaxation. The National Botanical Garden of Georgia is one of the most famous cultural, nature and tourism attractions in Tbilisi for the fun, comfort and tranquility it provides.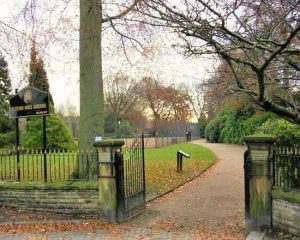 The National Botanical Garden provides a lot of plants, trees and roses that visitors can discover, which decorate the garden as a natural painting rich in colors, where the types of trees in the garden dance from pine trees, bamboo, ornamental, medicinal and aromatic herbs, in addition to many colorful roses and flowers. The National Botanical Garden cuts a lot of The paved roads, which include wooden chairs on either side of them, because the walk inside this garden is long and branching, and you need to rest some time.