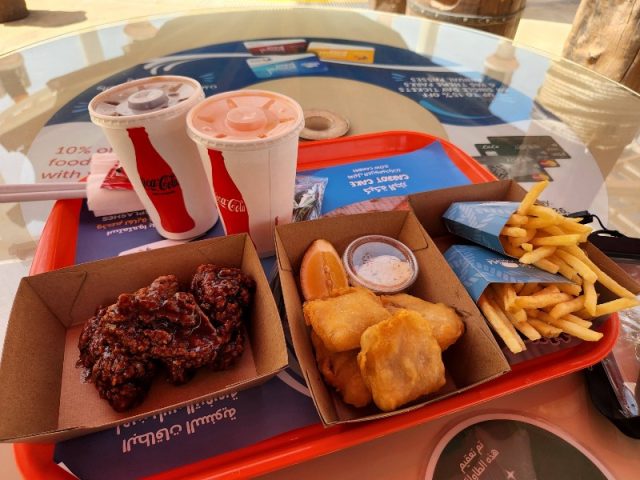 One of the most beautiful entertainment and tourism areas in Abu
One of the most beautiful entertainment and tourism areas in Abu
Dhabi, Yas Water World Abu Dhabi represents an entertainment destination full of fun and enjoyment that all family members are looking for, especially as it is suitable for all age groups, as it is located on Yas Island, which is characterized by stunning sea views and attractive places for tourists.
The water park is located on a large area that accommodates about 45 games of water games and slides that are interesting to visitors and a variety of seasonal events and shows, and it is distinguished by a group of games that is unparalleled in the world.
Discover Yas Waterworld Abu Dhabi
Learn about Yas Water World Abu Dhabi and the most prominent entertainment activities, facilities and ticket prices, which are as follows:
The most important activities in Yas Water World Abu Dhabi
Here are an interesting set of activities that can be practiced when visiting:
Explore the Yas Waterworld Abu Dhabi rides
Yas Water World Abu Dhabi
Enjoy an adventurous journey in an atmosphere full of activity and movement, the world of Yas World is full of amazing explorations, especially exciting gaming experiences, some of which are suitable for children, and some for adults, and there are also games that bring together family members.
You will find a small playground for children that includes safe and short water slides that suit their sizes, and a Yahal area that includes three slides and a huge water bucket, as well as a water cannons area full of machine guns and cannons.
Share water games with your children
Yas Water World
Join your children in family games that allow for group fun, including the Nahr Al Raha ride that floats you on a swimming wheel, and engage them in an entertaining water war in the water balloon wars, and the 5D technology Cinesplash game.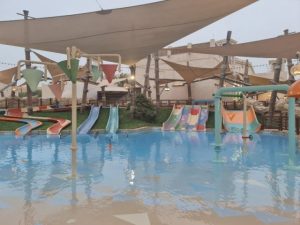 And do not forget to visit Yadi Yas, the river with its fast rushing waves. You must hold on to the swimming wheel well while the strong waves take you on a fast movement trip.
Try the collection of exciting games
Yas Water World in Abu Dhabi
Take a little adventure and enter into the experience of a group of the most difficult games, most notably the carousel game, which is the fastest and largest hydro-magnetic game in the world and can accommodate six people, while you can try the Leo Loop transparent tube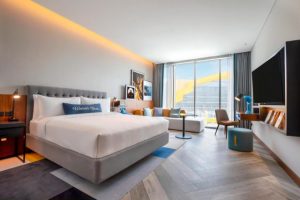 where you will enjoy sliding vertically down, also do not forget to try the Bandit Bomber, the longest suspended roller coaster in the region .